Retrofit Cap & Dowel Chairs
Dowel Bar Cap & Chairs are designed for retrofit applications.
Available in two sizes
Sold in sets
Dowel Bar Retrofit Process:
Many states are retrofitting older highways with epoxy-coated dowel bars. The retrofit begins with cutting of six slots (three in each wheel path) across all transverse joints or cracks. The slots are cut with ganged diamond saws that make six cuts in each wheel path. The concrete between the saw cuts is then removed with lightweight jackhammers (heavy-weight jackhammers tend to damage the concrete around the cuts). The epoxy-coated dowel bars are placed in the slots, then the slots are filled with grout and the joints or cracks are filled with waterproof caulk. The final step is to diamond-grind the joint to remove both excess grout and any displacement of the panels.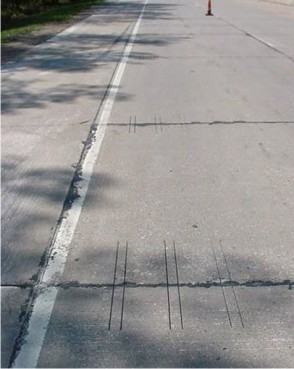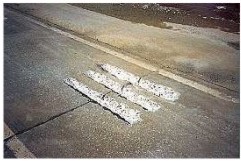 The final step often involves diamond-grinding of the entire road surface to remove any bumps or dips. Without the dowel bar retrofit this grinding would have to be repeated every six to eight years, but it is predicted that the retrofit will greatly increase this interval. Dowel Bar Retrofit has been proven to outlast Asphalt Overlay by at least ten years, and significantly improves ride quality.